On Friday IPG Media Lab and 140 Proof published a report about how people manage their social profiles across multiple channels. There were several important findings we as marketers should understand.
At a high level, the research finds that a majority of US adults are active on multiple networks, but they use each one with a different purpose and a different audience. Based on that, we should pay attention to each channel audience and their particular interests separately. Content should be created with the specific channel audience in mind, and not just post the same content on all social networks.
People Use Multiple Social Platforms

A majority (52%) of U.S. adults use two or more social networks. Of the 107 million U.S. adults who use multiple social platforms, more than half use four or more. We can expect this number to continue to increase with specific use case platforms. As marketers, we need to make sure the content we create fits the channel and the particular use case.
People Don't Treat All Networks the Same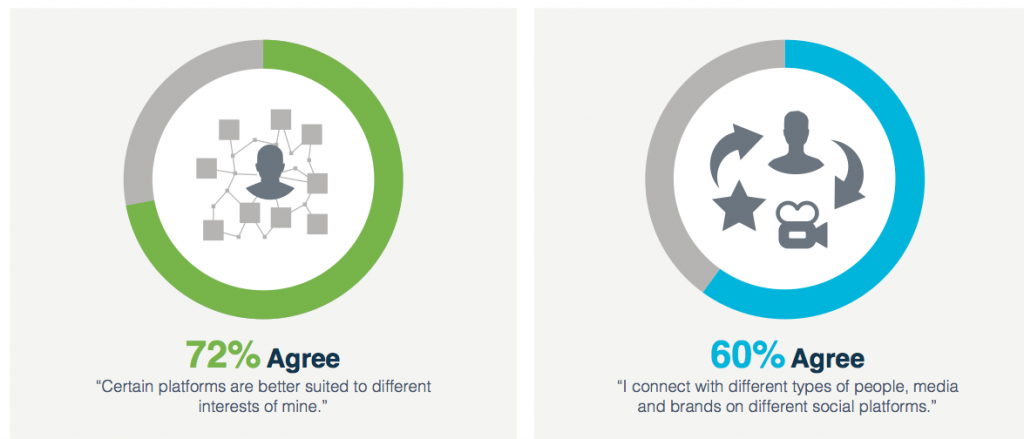 With a majority of people managing multiple social platforms, many of them participate in "social hygiene," meaning that they are intentional and conscious of how they engage and where. People align specific networks to particular interests. 72% of those surveyed agree that certain platforms are better suited to different interests. In addition to specifying some networks for specific interests, they also engage with different audiences on various channels. 60% of those surveyed agree they connect with different types of people, media and brands on different social platforms.
Based on this, brands can't treat all social networks the same either. The same content shouldn't be posted across all social channels. Doing this misses a big opportunity to adapt or customize the content to that specific audience and channel. The message or tone of voice shouldn't necessarily change, but the content should be tailored to tell a story across all platforms.
Different Platforms for Different Interests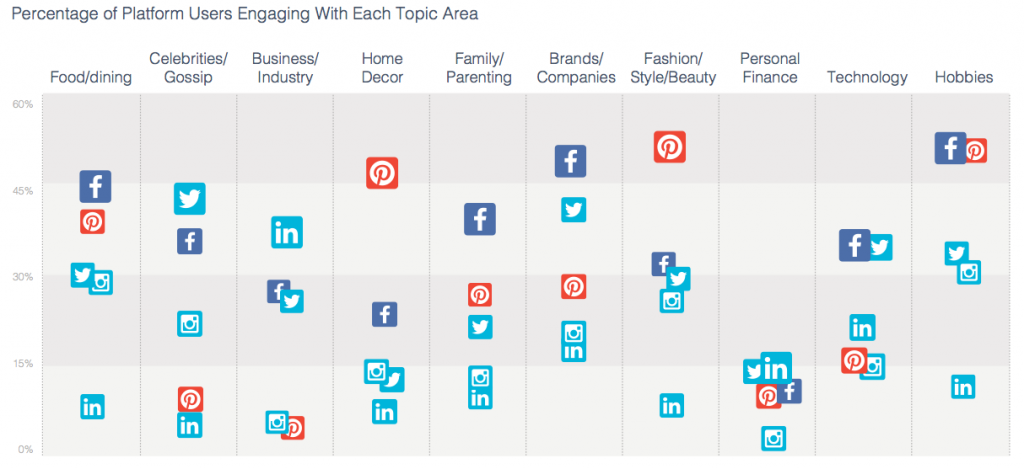 Facebook, Twitter, YouTube and Pinterest aren't the same thing. How people use them is distinct. When people want to talk about or learn more about a particular topic, they will select the right platform for that subject. If users want images, inspiration and how-to tips for home décor, fashion or hobbies, they'll go to Pinterest. If they want to keep up on celebrities and gossip, Twitter is the top platform. Marketers should pay attention to how people use each platform and what topics are the focus.
Distinct Audiences for Different Platforms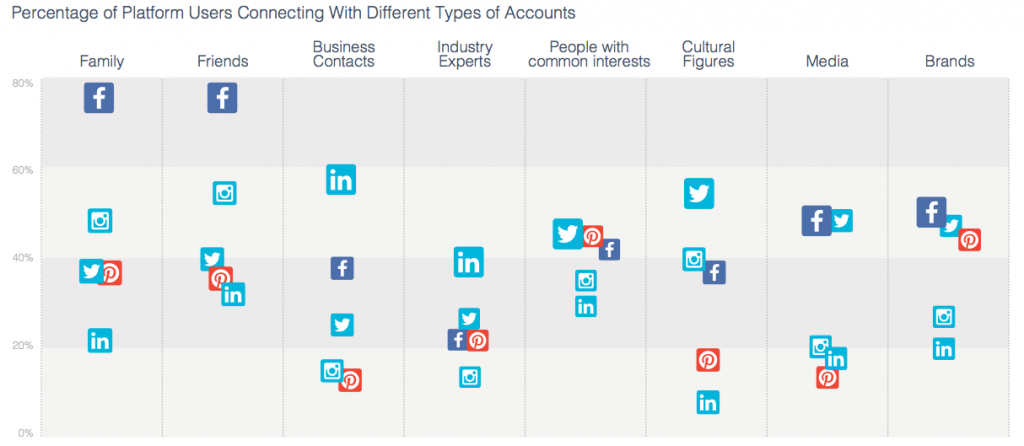 It shouldn't be much of a surprise that people engage with different people based on the social network. By design, LinkedIn is more focused on business contacts and industry experts. Twitter is an easy way for people to follow their favorite celebrities and cultural figures. What marketers should pay attention to is the multi-audience on Facebook. It is overwhelmingly where people connect with their family and friends, but it is also where they like to engage with brands. Facebook is a more personal channel, so marketers should be more personable and create more genuine content.
Likes Don't Always Last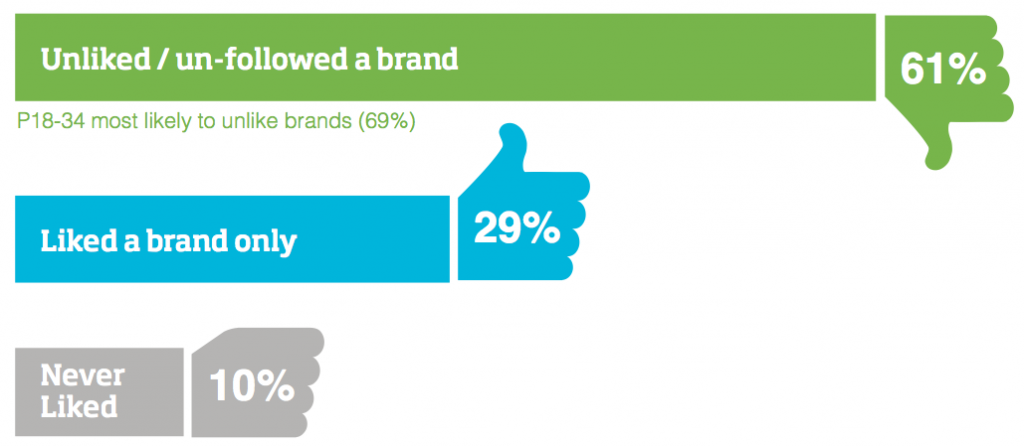 Another part of "social hygiene" means that people don't like or follow a brand then forget it. People are always culling their lists and getting rid of anything that isn't valuable to them anymore. 61% of adults surveyed have unliked or unfollowed a brand. That percentage goes up to 69% when you look at the 18-34 year old demographic. The top reasons sited for unlike/unfollow are loss of relevance, switch to a new brand, and contest ended. While contests and gimmicks may get a quick follow or like, it won't last if you're bringing in the wrong audience or you aren't giving them valuable content. If all you want to do is "sell, sell, sell!" – they will leave!
If You Collect Social Data, Use It
Currently, many targeted ads are based on previous browsing history. Survey respondents said they would prefer ads targeted to their specific interests. It turns out a majority (67%) of people are comfortable signing in with their social accounts, which provides valuable audience information. If you collect that data, make sure users get value in return. Also, make sure you are using the data and social accounts for good, not evil. Apps that post to your account without permission or pester your friends to play Candy Crush are annoying and will get unconnected quickly.
Overall, we need to be smart marketers and not work on autopilot. Consider each channel and audience separately. Create an overall strategy that tells a story across all platforms, each in a distinct way. Learn exactly who your audience is and what they care about so you can better connect with them. Consider using a social CRM to capture info about your customers across all social networks for a more complete picture.
You can read the full report here: A Network for Every Interest – How People Actively Manage their Social Profiles Across Multiple Platforms