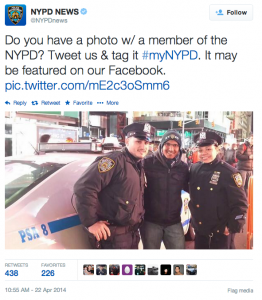 Last Tuesday, the NYPD tweeted, "Do you have a photo w/ a member of the NYPD? Tweet us & tag it #myNYPD. It may be featured on our Facebook." The image they posted in the tweet is an example of the type of photos they wanted to see. For the first hour, most of the responses were positive and shared photos of happy people posing with police officers.
However, less than an hour and a half later, an Occupy Wall Street Twitter account got involved and encouraged followers to share their own police photos. From there the hashtag became about police brutality and violence. The conversation didn't stay on just New York City. It moved across the United States to #myLAPD, #mySPD, #mySFPD, #myOPD, #myAPD, #myDPD and worldwide.
Why Did It Go Wrong?
Many of the marketers and reporters who have analyzed this campaign have said it should've been obvious this would fail. Why is that and what can other brands learn from this experience?
Once a hashtag is created, the original creator has no control over the conversation or content. That coupled with the fact that Twitter is an audience full of cynical people who have been known to hashtag hijack in the past, it does seem the NYPD should have at least considered the possibility this would happen. Many other hashtags have been hijacked including #McDstories, #AskJPM and even #AskRKelly, plenty of opportunities for the NYPD to learn from past mistakes. In each of these cases, as is true with the police, their reputation isn't spotless. It's dangerous to tread into social media, especially when asking for user generated content, if your reputation isn't pristine. You're inviting anyone who disagrees with your brand to engage in take over the conversation you're starting.
By asking for photos, the NYPD gave their opposition a perfect opportunity to share the many photos of police brutality. Since this has been an issue in New York City and around the globe there is plenty of content. Even if the photos capture something completely legal and not necessarily brutal, there is often little or no context to explain the scene. Even NYPD Commissioner, Bill Bratton, said sometimes police work isn't pretty.
Another misstep here is that the NYPD asked people to share their photos on Twitter with the hashtag, which means they are immediately public. There is no way to curate and only share the photos the NYPD wanted to receive. They did get some of happy people posing with friendly police officers, but they were far outnumbered with the negative images.
While the NYPD are a bit of a tourist attraction in New York City, most people's direct experience with police isn't positive. People normally only interact with the police if they have committed a crime, are accused of committing a crime or are the victim of a crime. These aren't the best circumstances to bond with your friendly police officer and snap a photo.
The NYPD and Social Media
The NYPD's ultimate goal in this campaign isn't completely clear. Was it get engagement on Twitter? Increase buzz around the NYPD and #myNYPD? To gain new followers? If it was any of these things, then this campaign may have met their goals. The hashtag became the number one trending topic on Twitter and had over 50,000 tweets on Tuesday alone. The NYPD also gained 4,000 new followers. However, if their goal was to generate positive PR or highlight positive community interactions, they failed.
The NYPD seems to be considering this experiment a success. NYPD Deputy Chief, Kim Y. Royster, released a statement that says, "Twitter provides an open forum for an uncensored exchange and this is an open dialogue good for our city." NYPD Commissioner Bratton seems pleased as well. He said, "I kind of welcome the attention. We really broke the numbers yesterday."
If the NYPD's goal was to start a conversation about police force and actions with the public, this might've been a good start. But so far, it doesn't seem that the NYPD is doing anything to engage that conversation. Commissioner Bratton said, "Most of the pictures I looked at, they're old news." With this he is brushing off any criticism and not facilitating an open, honest conversation about the police department's past, present and future. He had the opportunity here to show how open and communicative the NYPD wants to be under his leadership, but instead the department shared the photos they liked and ignored any backlash.
Commissioner Bratton said social media is a top priority for him at NYPD. While Twitter and other channels could be a good way to communicate with the public and keep a pulse of the community, it's important that the NYPD fully understands social media, what works and the audience they're trying to reach. If the NYPD wants to be successful on social media, they need to be genuine and truly open to hearing and responding to criticism.
Some police departments have found Twitter to be a useful tool to communicate with people and build community relations. Boston Police Department used Twitter very effectively to communicate information during the Boston Marathon bombing and manhunt last year. They continue to use the channel to update more than 276,000 followers on community news, missing persons, safety tips and police department initiatives. The Seattle Police Department has been active on Twitter for several years and has gained national attention for their creative campaigns like Tweets-by-beat, tweet-alongs (the Twitter version of a ride-along) and genuine two-way communication, even on the topic of marijuana.
It isn't that the NYPD shouldn't be on Twitter, or other social media channels, but they need to understand the benefits, risks and best practices. It's alarming that no one saw any red flags when this campaign was proposed. There should've been a strategy for how to manage the campaign as well as a detailed crisis plan to handle any backlash. The negative responses should have been anticipated and an internal discussion of how to handle them long before the hashtag went live.
Tips for Other Brands:
What can other brands learn from this experience? Here are a few tips and best practices to consider before starting your own hashtag conversation or asking for user-generated content.
First and foremost, know exactly what you're going to do, why you're doing it, how you will measure success and what you will do when problems arise. All of this needs to be outlined and determined before the initiative begins.
Be honest and thoughtful about the perception of your brand in the general public. If you aren't the most loved person or company in the world and no one has a beef with you (and I honestly can't think of anyone who fits this), you will likely get some backlash on social media. It might not be a lot, or it could take over the whole conversation like #myNYPD. If you aren't sure what people think of your brand, do some social listening. If you're reputation isn't good or your products suck, social media won't help. Fix that first.
Be Aware of Current Events
A couple years ago we did a campaign with Wells Fargo for the anniversary of the Golden Gate Bridge. Because we were paying attention to current events and conversations on social media, we knew Occupy SF was planning to march across the Golden Gate Bridge on the day we planned to start our campaign. We knew this meant our campaign might get hijacked so we delayed the start and made sure we had a crisis plan in place for the duration of the initiative. You must pay attention to events that could impact your campaign.
You likely will get some criticism or negative responses in social media. People on the Internet are cynical and like to complain. Think about the responses you might get ahead of time and make a plan for when and how you will respond. It isn't necessary, or even advisable, to respond to every hater, but it's important to have a crisis plan in place to handle any backlash.
You Don't Control the Conversation
Once you've published that tweet, created the hashtag and asked the Internet to respond – you don't own it anymore. Where it goes isn't in your control. If this scares you or you think this might spell disaster for your brand, don't do it!
Submit Content for Review
Rather than creating an open conversation on Twitter, where anyone can lead the discussion down a different path, use a more moderated approach. Consider a moderated Q&A where people send questions ahead of time for selection. Or give people an opportunity to submit their content and review it before it's published. Back to the Wells Fargo Golden Gate Bridge campaign, we created a Tumblr where people could share their stories and content for review before anything was posted.
Before you go live with any campaign, run it by someone or a team who can help you see what might go wrong. Sometimes we get rose-colored classes when it comes to our own company or brand. We might not see the flaws or negative side that may arise. It can be helpful to bring in fresh eyes to help identify any potential issues.
What tips would you recommend to other companies thinking of doing a similar campaign?