I recently had the incredible opportunity to visit Costa Rica as a work trip with priceline.com. I had never been to Costa Rica before, so I was excited to see the lush scenery and enjoy this beautiful country.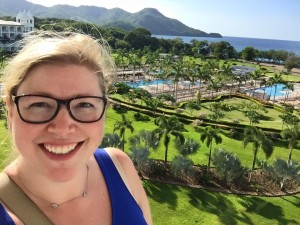 My trip started in San Jose, where most of my time was spent working, but I did get a chance to experience the city some before heading to the Pacific Coast. My friend who joined me in Costa Rica and I went on a bar tour of San Jose with
Carpe Chepe Tours
. First, we learned Chepe is a nickname for Jose so locals affectionately call the city "Chepe." So the company name, and mission, is about helping you embrace and experience San Jose. It really was a fantastic way to see more of the city and get a better sense of the culture and the people. We happened to be the only 2 people who signed up for the tour that night. But that just meant we had more of a chance to get to know our guide, Amy, and her roommate better. One of the highlights was actually not on the itinerary. I saw what appeared to be a club with floor to ceiling windows at the top of a tall apartment building. I asked Amy about it and she said it was a VIP club they sometimes take their tours if they plan it ahead of time. She said she might be able to get us in if we were interested. Of course we were! Amy worked her magic and we were able to go up. The view up there was amazing! You could see most of San Jose. It was a fun night where we felt more like locals than tourists, which is how I like to experience new places.
The next morning we flew from San Jose to Liberia. When I selected the flight on
NatureAir
, I mostly liked the idea that the trip was only about an hour instead of nearly 5 hours on a bus. It didn't occur to me the flight would be my favorite part of the trip! It was a smaller plane, maybe about 20 seats total. The plane had huge windows and flew at a lower altitude, so it was an incredible way to see the beauty of Costa Rica! We had one quick landing at the Tamarindo airport, which is really just a small strip of asphalt in the middle of what looked to be farmland. And we were landing we flew over the coastal town of Tamarindo and it was simply stunning! I can't recommend this flight highly enough! It's more than transportation, it is a sight-seeing experience!
I booked this lovely all-inclusive resort on priceline.com as an Express Deal. The RIU site actually has two resorts, the RIU and RIU Palace. The resort was incredible and the view was breathtaking! I was actually able to take this opportunity to include this wonderful resort in our #roomwithaview Instagram campaign.
It was the rainy season when we visited, but we lucked out with great weather for the most part. But we did get some rain. On our second day there we went on a catamaran tour on
The Hibiscus
. The plan was we'd try to see some wildlife like whales, turtles or dolphins then we'd find a place to snorkel and see more sea life before heading back to watch the sun set on the Pacific Ocean. The day started beautiful, but the rain started shortly before we boarded the boat. It stopped when we got on the boat so we continued with our plan. We didn't find any whales, turtles or dolphins, unfortunately. We did go snorkeling as saw some beautiful fish. Then the rain came back full force. It was intense but also incredible being in the middle of a downpour while in the Pacific. Then we had to swim back to the boat as quickly as we could. The rain didn't dampen our fun, it was still an incredible trip!
The last night we walked down the beach to a little place called Monkey Bar. I'd read many reviews that this place might be a bit of a tourist trap, but there are many monkeys in the jungle around the establishment and that it's worth visiting. I would definitely agree it's worth a visit! When we were walking in we had 3 howler monkeys in the trees above us. It was so cool! The bar itself was quirky and fun. The staff were so friendly and welcoming! I definitely recommend going there if you're in the area, but I also strongly recommend you bring mosquito repellant. I was eaten alive!
Everywhere we went in Costa Rica I was overwhelmed by the welcome and hospitality of the locals. They were so friendly. The unofficial motto of Costa Rica is Pura Vida which translates to "pure life." But it's more about enjoying the simple pleasures and appreciating what you have in life. From what I could see the locals truly embrace that sentiment. It was a wonderful vacation to take a breath, relax and refocus on what is truly important in my life. I honestly didn't want to leave because it was so lovely, but eventually vacations end. But I made sure to bring some Pura Vida home with me.