Did you hear a baby was born today?
One of the great things about social media is how immediate it is. You can share what is happening at that moment with your audience. This provides exciting, and sometimes challenging, opportunities for brands to get involved in a conversation happening right now. But sometimes the larger brands struggle with how to get in on real-time marketing with their established review and approval process.
Brands can be part of the latest news, but this doesn't happen by accident. It takes planning and coordination, long before the lights go out at the Super Bowl or the United Kingdom announces the birth of their future king. Here are some steps that can help your brand tackle real-time marketing.
One caveat, this is more focused on pop culture events. There are definitely things brands can and SHOULD do during national and global disasters, but my colleague Kim Ervin covered this topic well on the Spring Creek Group blog.
1.       Plan for events you know are coming
We've known for nearly nine months that William and Kate were expecting a child. That is plenty of time for you and your marketing team to brainstorm ideas for the birth announcement. But what if it isn't a pregnancy when you know the approximate time to expect something? You'll want to plan ahead for large cultural events, such as the Super Bowl or the Oscars. Even if you don't know exactly what will happen, brainstorm with your team about how that event ties to your brand and how you can incorporate it into your social marketing efforts.
2.       Prepare creative ahead of time
If possible, work with your creative team to pull together some possible images. For example, with today's announcement of the Royal Baby, I'm guessing most brands did those images earlier and just waited to see whether they should post the baby boy or baby girl image. While it might not be "real-time" marketing in the strictest sense, I think it's good sense to plan ahead. Having a few sample images to work with will give you a head start during pop culture events.
3.       Set up a strategy room with your team and/or agency
If you want to move fast and be involved in real-time conversations, you can't have all the back and forth, reviews and approvals you might normally have. To help facilitate a fast turnaround, consider setting up a strategy room for key decision makers and content creators. If you work with an agency, bring them in to sit with your team. If that isn't possible, at least set up a conference call so you can get as close as possible to being in the same room. Make sure you include the creative folks who can draft stellar images, the copywriters who can write fantastic posts, and the top decision maker so you don't have to wait for approval. I've done this with clients before, and it's fun and exciting to see the whole team working together and producing excellent content.
4.       Consider brand voice and audience
Everyone wants to jump on the trending topic, but if it doesn't fit your brand it will just look like a desperate attempt to newsjack. When deciding on the pop culture topics and events your company wants to pay attention to and plan for, make sure you consider your brand voice and audience. If you're a sporting goods store, the Super Bowl is a perfect fit for your brand. The royal baby, however, might not be a topic of interest to your fans. Consumer products like Oreo, Starbucks and Charmin all have established brand voices and they each had a different take on the Royal Baby. Make sure your posts stay in your brand's voice and always consider who will be reading the post and if it will be of importance to them.
5.       Get creative!
One of the most exciting things about real-time marketing is that you can get creative with your posts. Have fun with it and join the conversation. But don't forget tip #4. If your brand is never fun or silly, posting a joke out of the blue will be odd and might turn your audience off.
Successful Examples from the Royal Baby announcement: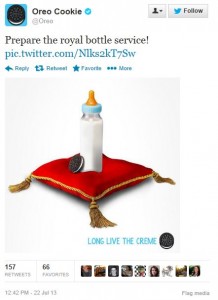 Oreo is known as the leader in real-time marketing. After their lights out Super Bowl tweet, they are the brand to watch during pop culture events. This is an example of a graphic that was likely created before today, but Oreo was on it and was one of the first brands to acknowledge the birth.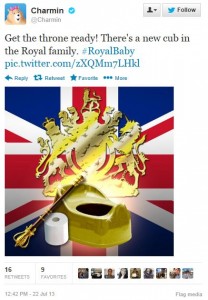 Charmin has done a fantastic job establishing a brand voice that is fun, a bit silly and family friendly. This post is definitely in the Charmin voice and connects the birth to their product.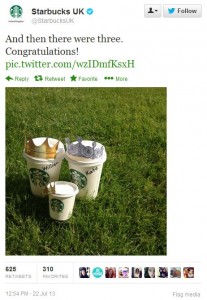 Starbucks social focuses on their cups out in the wild, so this is a cute way to relate to the birth announcement. Also, this was posted from the UK account, so you know the audience is interested.
Right now, real-time marketing is the next big thing. When a pop culture event happens and brands respond, it is still enough to get people to notice. But I predict it will become the norm and an expectation soon. So look at the events coming up in 2013 and into 2014. Which make sense for your brand? How will you keep track of the conversation and be ready to jump in?
Brand managers: what are you doing now for real-time marketing?